Welcome to
Sir Winston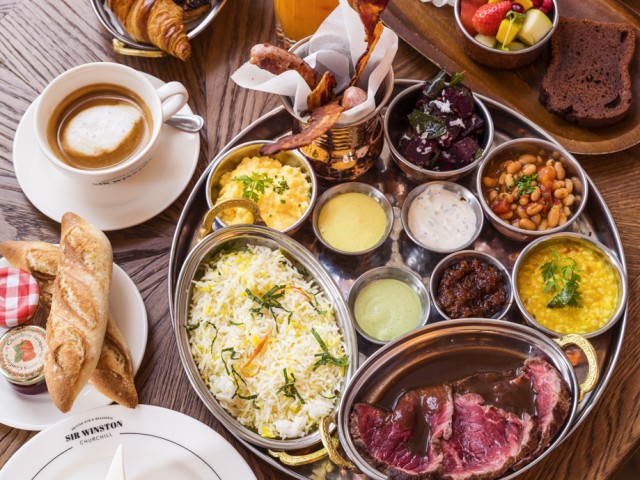 Sir Winston
[
British spirit and Indian inspirations ]



The heart of the Champs Elysées has been enriched by a new HQ that combines
British spirit and Indian inspiration. Entirely redesigned by the architect
Laura Gonzalez, rediscover the old English pub of Paris transformed into a
totally new place to live: warm, lively, trendy, festive,
ultra-economical.



On the plate, the talented Anglo-Indian chef Manoj Sharma twists the
classics of the English pub with the spicy flavours of Delhi, while at the
bar Julien Quettier, the head bartender, offers the best beers and spirits in
the world as well as original cocktail creations...to be discovered during
afterwork (or not) in his hidden bar.



The Sir Winston is the good address that was missing at the Etoile near the
Champs Elysées for a total change of scenery at any time of the day.



The restaurant is open on Sundays.
Sir Winston BRITISH PUB & BRASSERIE / TERRASSE / BRUNCH Paris
General information
Cuisine
Bar Restaurant, Pub, Brewery, Contemporary brasserie, Best Indian food
Business type
BRITISH PUB & BRASSERIE / TERRASSE / BRUNCH
Services
Terrace, WiFi, Disabled Access, cell phone charger
Payment methods
Debit Card, American Express, Visa, Cash, EN - Titres restaurant, Eurocard/Mastercard, EN - Paiement Sans Contact
Access
Underground
Charles de Gaulle étoile
Parking
77 Avenue Marceau 75008 Paris
Opening hours
Sir Winston